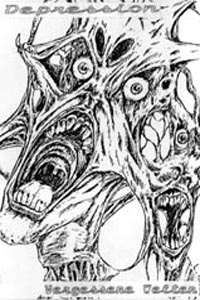 "Vergessene Welten"
MC
(1992)
(limited to 50 copies - totally sold out!!)

"Vergessene Welten" was recorded on one track in my living room during a rainy night in spring, April 1992

1. Embraced by the Dreams (Intro)
2. Forgotten Worlds
3. Knee deep in rancid Bowels
4. God
5. Your Neck awaits a Rope
6. Submit to Mutilation
7. Sacred Vomit
8. Outro

Drums, guitars, growls, screams, keyboards and FX by Kai "Swinger of the Axe"