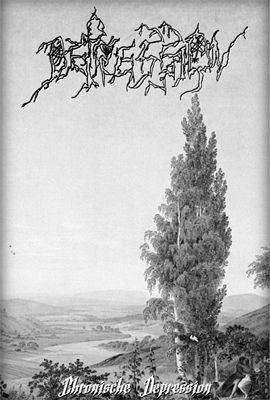 "Chronische Depression"
MC
(2014)
Old Grindered Days Records
(limited to 50 copies - sold out)

"Chronische Depression" was recorded during October 1999 at K-Sound Studio
by Matthias Klinkmann and DEPRESSION
Produced by Matthias and Kai

"Bloodcraving" is a coverversion from MORTICIAN
"Gods Of Grind" originally performed by GODS OF GRIND
The song "Depressionen" is inspired by one of the best bands in this universe: BATHORY.
With this song I try to pay tribute to Quorthon and his music.
Bathory are one of my biggest influences, and albums like
"The Return...." and "Hammerheart" are definitely my all-time faves!
Hail Bathory!!

Side A
1. Putting the last Nail
2. The Ritual
3. A murmured Cry
4. Bloodcraving
5. Seven Feet Under

Side B
1. The Peeling Session
2. Gods of Grind
3. Never
4. Cattle Grid
5. Cruel
6. Depressionen

Drums, guitars, bass and screams by Kai
Growls and being depressive by Marc