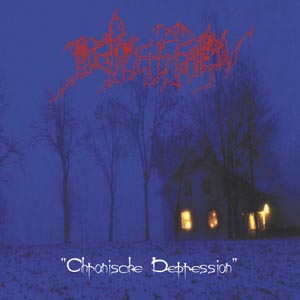 "Chronische Depression"
CD/LP
(2000)
Deadly Art Production
(CD limited to 1.000 copies - sold out / LP limited to 300 blue/red splattered vinyls - sold out)

"Chronische Depression" was recorded during October 1999 at K-Sound Studio
by Matthias Klinkmann and DEPRESSION
Produced by Matthias and Kai

"Bloodcraving" is a coverversion from MORTICIAN
"Gods Of Grind" originally performed by GODS OF GRIND
The song "Depressionen" is inspired by one of the best bands in this universe: BATHORY.
With this song I try to pay tribute to Quorthon and his music.
Bathory are one of my biggest influences, and albums like
"The Return...." and "Hammerheart" are definitely my all-time faves!
Hail Bathory!!

- "I remember my Future" is taken from the split-10"LP with Rot "Und keiner weint uns nach" (1999)
- "The Barbarian" is taken from the split-7"EP with Rejectamenta "Ein Hauch von Moder" Part II (1998)
- "Four-string Violin" is taken from the split-7"EP with Maggot Shoes "Die Zeiten ändern sich" (1997)
- "Bloodheaven" is taken from the split-CD with Agathocles "Böses Blut" (1997)
- "Flesh of Mine" is taken from the first 7"EP "Ein Hauch von Moder" (1996)
- "Defaced" is taken from the split-tape with Hierba - "Enjoy or die!?" (1998)
- "Impious Lands" is taken from the fourth demo "Erinnerungen" (1995)
- "...in Desperation." is taken from the third demo "...in Verzweiflung." (1993)
- "God" is taken from the second demo "Vergessene Welten" (1992)
- "Vale of Tears" is taken from the first demo "Tal der Tränen" (1990)
1. Putting the last Nail
2. The Ritual
3. A murmured Cry
4. Bloodcraving
5. Seven Feet Under
6. The Peeling Session
7. Gods of Grind
8. Never
9. Cattle Grid
10. Cruel
11. Depressionen
12. I remember my Future*
13. The Barbarian*
14. Four-string Violin*
15. Bloodheaven*
16. Flesh of Mine*
17. Defaced*
18. Impious Lands*
19. ...in Desperation.*
20. Forgotten Worlds*
21. Vale of Tears*
(*bonus tracks)

Drums, guitars, bass and screams by Kai
Growls and being depressive by Marc