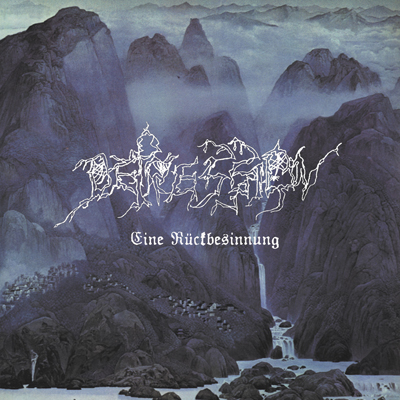 "Eine Rückbesinnung"
Compilation-CD
(2009)
Power It Up Records

"Eine Rückbesinnung" was compiled and mastered on June, 21st 2008
by Skaldir and Kai
Layout and all pictures by Ron Sanders
Linernotes by Kai Sattelkau
"Infection (live)" recorded somewhere, somehow between 2004 and 2006
Discography performed and deserved by DEPRESSION and its members over the years

The idea for this compilation CD was born years ago,
as we received different requests from fans and friends, to put all vinyl releases together on one CD.
Not only because the EP`s were hard to get and sold out,
but also because the younger fans had no chance to get these releases and listen to them.
Most of them even have no LP-player anymore!
And the freaks who have the EPs in their collection can now listen comfortably to the whole shit,
without turning the sides every five minutes.
Now you can enjoy these tracks in your car, Ghettoblaster and discman!
1. Drowned in holy Rivers (intro)
2. Sane - Insane
3. The deepest I
4. Vagina Berserker (GUT)
5. I will kill someone during Spring
(Spring Time is Killing Time)
6. Radio Hit (ANAL CUNT)
7. Suicide Dreams
8. A colossal Vision
9. Men behind the Sun
10. Fucked up by Belief
11. The rancid Bowels of the Vocalists (Part I & II)
12. And nobody cries…
13. I remember my Future
14. Suicide Fuck (ABSCESS)
15. Where am I?
16. Sun and Moon
17. Thy black Altar
18. Depress (at least a part of…)
19. Broken Fragments
20. Four-string Violin
21. Heart of Illinois (IMPETIGO)
22. Santanico Pandemonium
23. Howling at my Backdoor
24. The Visitation of the stillborn Souls
25. Infection
26. Flesh of Mine
27. Dogmatize (BLOOD)
28. Desperation of my Soul
29. Amputations for my Rations
30. Greet the Corpses
31. Blood on God's Hands
32. Short Song
33. The Barbarian
34. Eroded Epitaph
35. Defaced
36. Boneyard (IMPETIGO)
37. Blood on God´s Hands
38. Short Song (Pt. II)
39. Greet the Corpses
Bonustracks:
40. Eroded Epitaph
41. Blood on God's Hands
42. Dogmatize (BLOOD)
43. Bitch
44. (Depressive) Infection
45. Eroded Epitaph
46. Seven Feet Under
47. Infection
48. Infection (live)

Drums, guitars, screams and other shit by Kai Sattelkau
Bass, growls and other shit by Marc Miekeley
Guttural grunts, weird shrieks and other shit by Ron Sanders