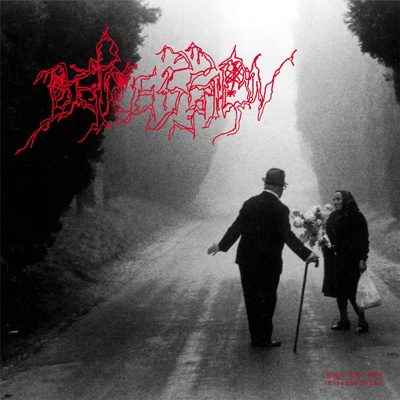 "Das Relikt -Erinnerungen-"
Double-CD(15th-anniversary-album)
(2005)
Cudgel Agency
(first edition Digipak limited to 1.000 copies)
"Das Relikt" was recorded in 2005 to celebrate the 15th-year-anniversary of DEPRESSION
Drums were recorded July 2005 at Absence Studio by Latten-Lars and Kai
Guitars, bass and all vocals were recorded August 2005
at legendary K-Sound Studio by Matze Klinkmann and DEPRESSION
"tuus in aeternum" and "cursus res negotium" re-recorded by Skaldir February 2005
"Underestimation" is a coverversion of DEFECATION
There are definitely no vocal effects on this recording
Complete layouts as always by Kai

Disc One
-DAS RELIKT-
1. tuus in aeternum (intro)
2. Final Journey
3. Dreadful Crimes
4. The Exorcist
5. Slowly Passing Timeless Horrors
6. Threatening Precipice
7. At The End...
8. Mortal Runs
9. Forgotten Worlds
10. Sacred Vomit
11. Mortal Agony
12. Defy Your Master
13. Submit To Mutilation
14. Impious Lands
15. God
16. Unreal Relations
17. Knee Deep In Rancid Bowels
18. Legions Of Scorn
19. ...in Desperation.
20. Vale Of Tears
21. Witching Hour
22. cursus res negotium (outro)

Bonus Songs:
23. Underestimation
24. Depressionen (Part II)

Disc Two
-ERINNERUNGEN-
same tracklist as songs 1-22 from Disc One.
Original Demo recording from 1995.


Drums, guitars, bass and screams by Kai
Growls and enthusiasm by Marc
Guttural grunts and shrieks by Ron